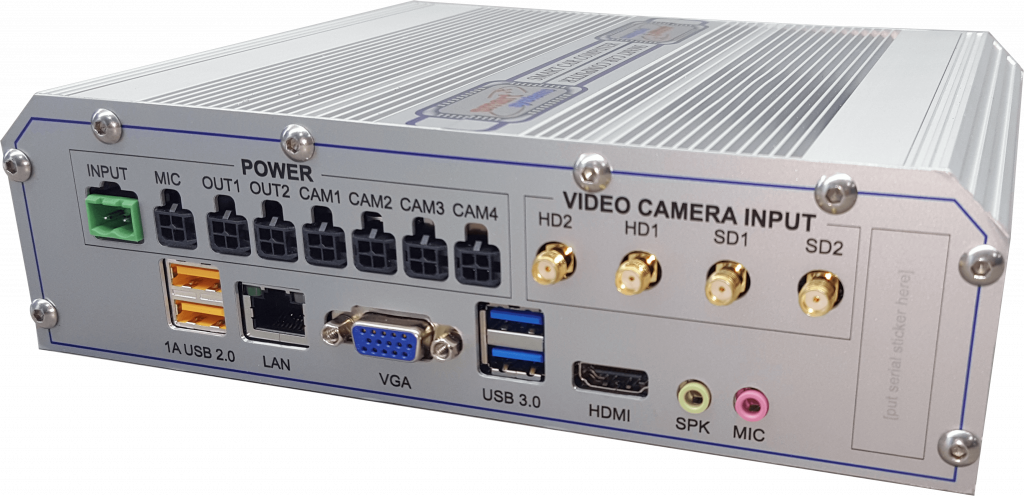 SmartCar is a device designed by our company. This is multi-functional control unit. This device can be used in different vehicles:
operational services (police, ambulance, fire fighting, military services);
banks, their branches or post offices;
Transport for commercial transport, timber transportation;
Passenger transportation (public transport, taxi);
Main components of the SmartCar control unit:
Computer (product of our company), with the ability to connect various internal and external devices;
Video module (developed in our company), with the ability to connect 4 digital cameras (standard, it is possible extension), video data is saved up to 1 month.
Telemetry and data transfer module (developed in our company), supports two independent Internet connections using various built-in technological solutions (LTE) and (CDMA / EV-DO) control – determines the best channel for data transmission and automatically switches to it.
With SmartCar it is possible to realize the following functions:
Monitoring – dispatching, event control and registration, sending status messages to the central server. The status message count is almost unlimited.
Opportunity to transfer / exchange graphic information. Depending on the type of operational vehicle, automatic, text and graphic messages from the police, ambulance, fire brigade are displayed on the dispatcher's display.
The ability to directly access vehicle specific information systems (private servers), data retrieval and transmission are encrypted.
Searching for automated addresses (event locations) from a vehicle's computer – Using Global Positioning System (GPS). Possibility to create the shortest route of the vehicle (European and Baltic electronic maps) and the possibility to connect the voice control function in many languages.
Record photo and video events in and around the vehicle. In each frame, all status messages are simultaneously recorded: GPS position, time stamp, video camera identifier, engine state (the condition of the beacons and beeps is also recorded for operational vehicles), speed of the vehicle (for operational vehicles, the target speed is set to the speed measuring gauge).
Full office in the vehicle:
o Full Internet connection;
o Use of standard office programs, preparation and transmission of documents;
o e-mail, receipt and sending of various messages;
o Printing of prepared documents, including those received from the controller (if the system is equipped with a printer).
The SmartCar system is controlled using a touch screen and keyboard with illuminated keys, which greatly facilitates the data entry in the dark.