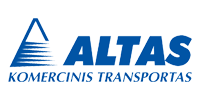 ALTAS Commercial Transport is Lithuanian capital minibus manufacturer and the provider of ambulances and special purpose vehicles.
1. The project "SmartMedic" – manufacture and installation of specialised equipment for NMPD cars.
Fully equipped 40 vehicles with "SmartCar" systems, and istalled the "SmartMedic" software. Regular maintenance of the NMPD special transport equipment is carried out.